A good friend of mine contacted me last night with a question. He had an AVI file and wanted to know how he could get this file onto a DVD in a format that is compatible with a standard set-top DVD player.
So the question is, how do you convert an AVI to DVD or another video file to DVD? This type of activity requires re-encoding software and most of them will cost you money. There is a free alternative though. Try out AVI2DVD. AVI2DVD is a GUI (Graphical User Interface) suite of freeware programs. You can use it to convert your AVI files into a DVD compatible format and then burn the resulting file(s) to a disc. Afterwards, you can enjoy the video on a standard DVD set-top player.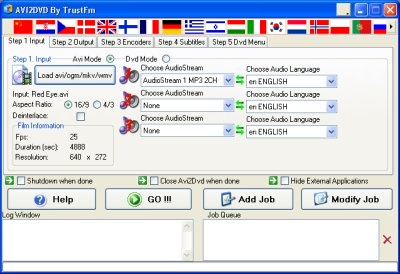 Download AVI2DVD from here: http://fileforum.betanews.com/detail/Avi2Dvd/1108095619/1
If you have trouble downloading from BetaNews, you can try some of the other download mirrrors listed on the AVI2DVD website.
If you need additional help or an AVI2DVD guide or tutorial, check out the excellent documentation over at Afterdawn: http://www.afterdawn.com/guides/archive/avi_to_dvd_avi2dvd.cfm